Project Links: Home, Sensor, Design, Cost, Software, Web
When I discovered that the sensor I wanted to use a surface mount device,  I knew that making the custom board to support it would have the longest lead times.  So, I started here with only a couple boundary conditions – it would need to work on 3.3 or 5V and I only wanted a 6 conductor cable so it would need to communicate with I2C.   Here are the major elements and their function:
Here is the schematic for this board:Air Quality Board
I have placed the EAGLE files in the  Air Quality Sensor Project Github Repository. Please note, this board is currently untested.
This is the current layout – about 1″ x 2.25″ – need to add more labeling but you can see how it all fits: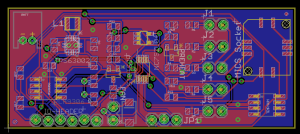 Update: Finalized the board and sent to OshPark for production.  Here is what the board will look like: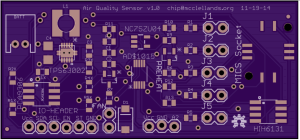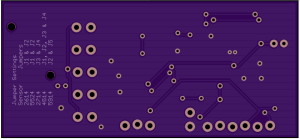 The board is making its way to me from Portland and the USPS is taking their sweet time in delivering it.  Someday when I have more money, I will pay for UPS or FedEx delivery….