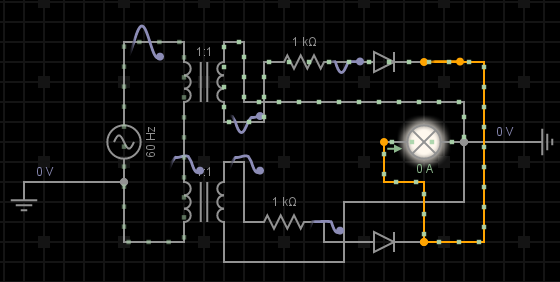 I recently added an app to my smart phone and, as a side effect, added another app, and  that led me to stumble upon the web site http://everycircuit.com, which provides electronic circuit editing/simulation/presentation tools together with commercial and crowd sourced example circuits.
For those whose religious convictions or practical circumstances make Chrome available on a laptop/desktop, the rest of this page might be interesting. Likewise, if you have a spare $10 the Android or IPhone apps might be interesting. So far, the Android version "just works" on my phone and I personally rate it "Uh, I've got to put my socks back on."  Finally reading the site's terms of use use might be a good idea for some people. I carefully read every word, something I rarely do. But I was relieved to see that the EveryCircuit people (currently) appear to stop short of claiming copyright on crowd sourced circuits.
To check this site out, try this link to the user-submitted rectifier circuit example above inside an instance of the Google Chrome browser on a desktop or laptop computer:
Now  click the moving squiggle in the upper left. It expands to a pretend oscilloscope showing voltage and current vs time for one part of the circuit.
Now click the "edit this circuit" link. There are tools for modifying this circuit.
Cool, heh? The main site page is here.
Yes, again, this tool isn't supported in many, many settings that readers of this blog find themselves in. It's completely dependent on Chrome.  On behalf of the company owning this site (that I just found: I have no connection to it), I'm sorry it isn't more portable.
By the way: Anybody reading this is welcome to submit their impressions of this or anything else here as comments below. TriEmbed meeting attendees or their online friends (such as in Vermont) are invited to request a blog account if they have interest in adding content to this site via blog postings, additional project pages, etc. Your access  will be proportional to how well you're known to the admins and editors (but we're always looking for new editors and at least one additional admin!) It takes about 10 minutes with somebody who is WordPress fluent to learn how to add content.