Many Arduinos are based on the Atmega 328 P chip. Note that P. If you buy raw chips be sure the P is present. When you look up "Atmega328" at a site like Digikey the P and non-P versions are side by side and you might just go for the cheaper one without noticing the difference. You will be sucking persimmons if you're missing the  P. I am now a relative and reluctant expert about working around missing Ps. One might say I'm P'ing into a pot with information I wish I didn't have. Actually, it was many months ago that I accidentally bought some P-challenged Atmega328 chips. But it was only today that I realized I was down to the bottom of the barrel and forced to replace a P with a non-P in an Arduino Uno, and that situation can best be spelled PO.
THIS CHIP BELOW IS THE Atmega328P YOU WANT: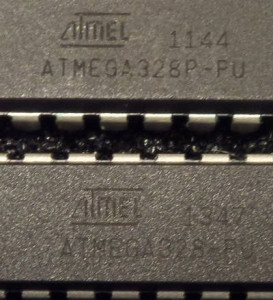 THIS CHIP ABOVE IS THE Atmega328 CHIP YOU DO NOT WANT. Notice how you can't read the markings? That's an accidental hint about which is the correct part, but also indicative of the apparent conspiracy the chip makers are involved in to make sure non-machines (i.e. us) can't read the markings in ordinary conditions. Both chips were close to flat, but the bottom one was obviously not flat (or tilted with respect to the light source) enough!!!
Postscript: Making a 328 chip run in an Uno is a total Pain. I should probably document that some place to save the next person some trouble. However once it's done the fact that it's the "wrong chip" is no longer visible if you're using the bootloader to program it.